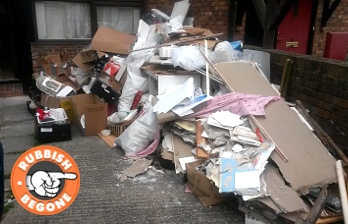 When the builders finish with their work, you'll be left with piles of leftover junk. And junk removal is what we are all about. Don't waste your free time! Call us today and let us rid your newly refurbished home or construction site of unwanted rubbish! It doesn't matter how much material needs to be transported – we will gladly help you no matter how big or small the job is! Here are samples of our specialised construction rubbish removal services available for London:
Builders Clearance – They sure are good at construction but if you ask the builders, all the produced junk is your problem. However, we can easily solve this problem for you! Order this service when the builders are done with their job!
Refurbishment Waste – If your property has gone through a refurbishment or small repairs, then we would gladly visit and collect the waste. You don't have to deal with the really messy part on your own, one phone call to Rubbish Begone will solve this problem for you!