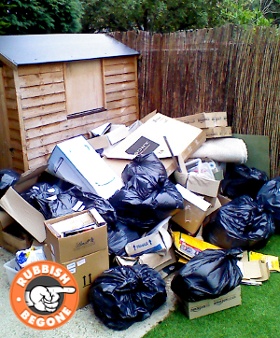 You live in Bromley and you need a reliable provider of house clearance services? Rubbish Begone gladly steps forward! Call 020 3404 1106 today and schedule the most superb house clearance procedure for your property. And did you know our price rates are actually among the lowest for the entire capital? Thousands upon thousands of Londoners take advantage of our affordable rubbish removal and so can you!
It doesn't matter if you are a first time client, you get the full benefits of our servicing for Bromley! Now you can take advantage of our:
Call centre which works 24/7
An instant no-obligation quote on the phone
Excellent customer care
Low price rates
Rubbish removal experts at your service
Eco-friendly disposal of certain waste materials
Regular visitations and flexible booking slots
Many additional rubbish removal services
Tempting discount options
Did You Know
Bromley is easily the largest London Borough just by area. It also has the largest green space in London – a whopping half of the borough. David Bowie, Charles Darwin and Napoleon the Third are among the most notable Bromley residents.
Yes, our call centre staff are at hand 24/7 so you can call at any time – even in the middle of the night – and book professional house clearance for your residence. You will even receive a free quote right away! Our friendly office staff will make you sure all your questions regarding our high-end services are answered. And when our rubbish removal experts visit your address in Bromley, they will show you the true meaning of efficiency and professionalism! On top of that, you can schedule regular visitations for your home or any other property of yours.
What's more, when you use our services you help the environment a little bit – we always recycle delicate materials so they can be put back to use! Take your time and browse through our comprehensive list of rubbish removal services – you will surely find exactly what you need!
Book Our Junk Removal Experts Today – Our Special Offers Await!
Either call 020 3404 1106 or schedule a service online – you can always reach and we are ready to help you no matter the circumstances. Even if you technically don't live in Bromley but in the areas nearby, you can still contact us and we will be more than glad to provide you with the most efficient house clearance service.
Other Areas We Serve